I'M ON MY WAY!
Each year I log tens of thousands of miles meeting my readers in schools and libraries all around the world. So far, I've visited 49 states, 9 Canadian provinces, and 11 countries in Europe and Asia. I made my first school appearance when I was 14 years old, and I've been going strong ever since!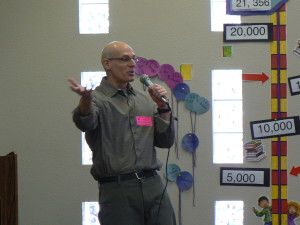 A GORDON KORMAN AUTHOR VISIT
My presentation begins with how I wrote my first novel when I was only twelve — a four-month-long seventh grade language arts assignment that produced THIS CAN'T BE HAPPENING AT MACDONALD HALL, which was published by Scholastic when I was fourteen. I also talk about research, brainstorming, developing characters, dialogue, rewriting and revision, and of course, humor. Over the years, I've written adventure, suspense, mystery, historical fiction, short stories, teen books, and the multi-author 39 CLUES series. But humor will always be my first love.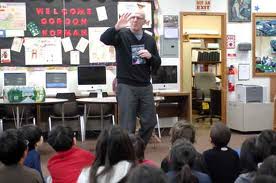 A FEW THINGS TO KNOW
IS THE PROGRAM APPROPRIATE FOR ALL AGES? I can speak to all ages, but my books are targeted from about second grade up.
HOW MANY TIMES DO I SPEAK IN A DAY? Three.
HOW LONG ARE THE PRESENTATIONS? Plan on 45 minutes to an hour, depending on how extensive a question-and-answer session you have in mind. For primary grades, a shorter time slot is recommended, but I can tailor my presentation to suit any schedule.
HOW LARGE CAN THE GROUPS BE? No maximum. You know your kids best, and you know the space you plan to put them in. Large audiences are no problem.
WHAT ABOUT WRITING WORKSHOPS? I have a great adventure-writing workshop, but it's best with small groups – 25 kids or less.
ARE SKYPE TELECONFERENCES A POSSIBILITY? Absolutely. I love those too.
HOW CAN I PURCHASE BOOKS FOR THE VISIT? It's always best to go with a local store of distributor, but books can also be ordered directly from my publishers. Scholastic can be reached at 1-800-SCHOLASTIC and HarperCollins (who also distributes for Hyperion) can be reached at 1-800-242-7737. In Canada, Scholastic's number is 1-800-268-3848.
WHAT ABOUT AUTOGRAPHING? That's part of the gig. I'm happy to autograph books. (I'm pretty fast, too.)
ARE THERE CERTAIN BOOKS THAT WORK BEST WITH YOUNGER STUDENTS? HOW ABOUT OLDER ONES? LIAR, LIAR, PANTS OF FIRE is my go-to title for primary kids. At the older end of the spectrum, I'd recommend my teen books, POP, THE JUVIE THREE, BORN TO ROCK, JAKE REINVENTED, and both SON OF THE MOB novels.
HOW CAN WE PREPARE FOR THE VISIT? One word: READING. The more familiar the students are with what I write, the better prepared they'll be. It's also helps to do things that are very visible in the school – signs, posters, door decorating, etc. Make it feel like a big event. I promise to do the same.
HOPE TO SEE YOU SOON!
For information on fees and availability, E-MAIL US.