THE D-MINUS POEMS (AND LAST-PLACE SPORTS POEMS) OF JEREMY BLOOM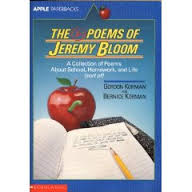 THE D-MINUS POEMS OF JEREMY BLOOM
Sixth-grader Jeremy Bloom is trying to get into an easy pottery class and signs up for poetry instead. And in Ms. Terranova's poetry workshop, they don't just read it; they write it.
Jeremy works hard, but all his poems receive the same grade – D-minus.
ORDER NOW
THE LAST-PLACE SPORTS POEMS OF JEREMY BLOOM
Jeremy sticks with his poetry to document an entire year of sports. But his poems – and his teams – always seem to wind up in last place.
ORDER NOW