THE TWINKIE SQUAD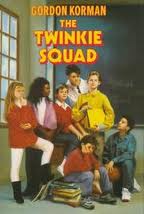 Meet Douglas Fairchild, writer, dreamer, and son of diplomats. Meet Commando Rivera, basketball star and way cool guy – until he crossed paths with Douglas.
Thanks to Douglas, Commando just joined the school's Special Discussion Group, or, as the students call it, the Twinkie Squad. Nothing is worse than being a Twinkie.
But Douglas and Commando are about to change all that.