HOT OFF THE PRESS
Here it is, the newest of the new, just hitting the shelves, or coming very soon. You'll find all the latest in my many series, as well as new projects and stand-alone novels right here!
But don't just sit here, taking my word for it. SCROLL DOWN!
SUPERGIFTED - THE SEQUEL TO UNGIFTED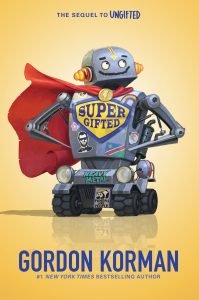 UNGIFTED fans, get pumped! SUPERGIFTED is here, featuring the return of Donovan Curtis, Chloe Garfinkle, Noah Youkilis, the Daniels, and legendary robotics team at the Academy for Scholastic Distinction.
Love, love. LOVE the cover. I might have to adopt this robot as a pet …
ORDER NOW

RESTART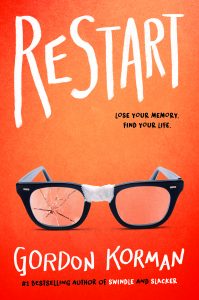 Chase Ambrose doesn't remember falling off the roof. He doesn't remember hitting his head. In fact, he doesn't remember anything. He wakes up in a hospital room and suddenly has to learn his whole life over again … starting with his own name.
Okay, he's Chase. But who is Chase? Soon he's hearing stories of the alpha jock and bully who held a reign of terror over an entire school. Is that the person he was … and is destined to be again?
Is it possible to restart?
CLICK HERE to watch a video preview of RESTART
ORDER NOW
Amazon        Barnes and Noble       Indigo        IndieBound

MASTERMINDS: PAYBACK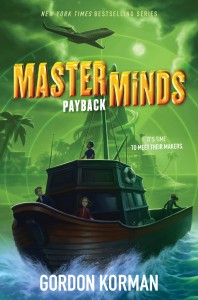 It's here – the third and final book of the NY Times bestselling MASTERMINDS, trilogy.
Surviving is hard enough, but the kids of Project Osiris know they can't run and hide forever. Sooner or later, they're going to have to take on the people behind the twisted experiment that created them in the first place.
It's time to meet their makers …
ORDER NOW
Amazon        Barnes and Noble        Indigo        IndieBound

JINGLE ALL THE WAY!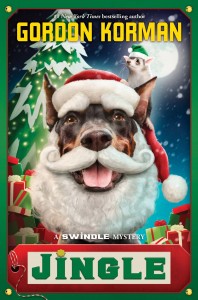 The SWINDLE team is back in my first-ever holiday book! The multimillion-dollar Star of Prague has been stolen from the top of the tree at Cedarville's annual holiday pageant, and The Man With The Plan is the prime suspect. Now Griffin and the team have to solve the mystery and catch the real thieves just to clear their names and avoid being Scrooged! And what a cover! Luthor in a Santa suit – there are no words …
ORDER NOW
SLACKER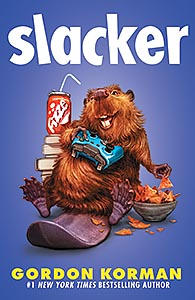 It's finally here, here's my next stand-alone novel, SLACKER. It's the story of a video-game-addicted couch potato who will stop at nothing to protect his slacker lifestyle – even if he has to turn himself into the greatest student leader in middle school history. FYI, no beavers were harmed in the creation of this (insanely awesome) cover. However, several Doritos bravely sacrificed their lives.
CLICK HERE to watch a video preview of SLACKER
ORDER NOW
Amazon        Barnes and Noble       Indigo        IndieBound

FINALLY IN PAPERBACK MASTERMINDS: CRIMINAL DESTINY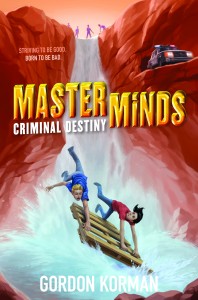 Get ready for the next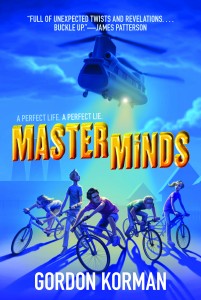 installment of my newest series. MASTERMINDS: CRIMINAL DESTINY follows Eli, Tori, Malik, and Amber as they try to discover the truth of their origins and carve a life for themselves in an outside world that is unfamiliar, baffling, and dangerous. But Project Osiris and its enforcers, the Purple People Eaters, are hot on their trail. They're free for now. But for how long …?
And check out the new cover for the paperback of the original MASTERMINDS to celebrate the release of Book 2!
ORDER NOW
Amazon        Barnes and Noble        Indigo        IndieBound

THE MIND-BENDING CONCLUSION OF THE HYPNOTISTS NEW IN PAPERBACK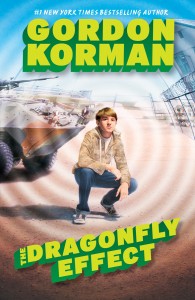 THE DRAGONFLY EFFECT, BOOK 3 of THE HYPNOTISTS:   THE HYPNOTISTS trilogy is finally complete. Jax has been recruited by the U.S. Army's Hypnotic Warfare Research Department. But Dr. Elias Mako has escaped from prison, and this time he has a plan to use mesmeric power to bring the entire world to its knees.
CLICK HERE to read an excerpt.
ORDER NOW
Amazon        Barnes and Noble       Indigo        IndieBound

MAY 8, 2018 - WHATSHISACE
More on this later – my next next book, coming in May. Most of us have minor issues with our phones and devices – assorted bugs and software glitches that make life interesting. Meet Cooper Vega, a seventh grader whose phone has a somewhat trickier problem – a sixteenth century ghost …