A SEMESTER IN THE LIFE OF A GARBAGE BAG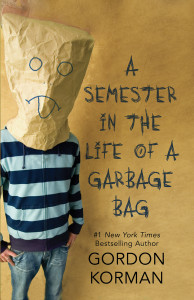 Sean Delancey is a popular guy until he meets oddball Raymond Jardine, the unluckiest kid in the history of their high school. Soon Sean is drawn into Raymond's bizarre plot to secure a spot on the school-sponsored trip to Theamelpos, a fabulous Greek island that grants good fortune to everyone who visits it.
Raymond is determined to stand out, and drags Sean through a series of crazy schemes, including a disastrous Halloween party, a fake hockey team, and the comeback tour of an obscure Canadian poet who died decades ago. What could possibly go wrong?
ORDER NOW