MASTERMINDS
Eli Frieden lives in the most perfect town in the world: Serenity, New Mexico. Everyone has a great house, with a pool. Money problems and crime are unheard of. Honesty and integrity are valued above all else. The thirty kids who live there never lie. They know it's a short leap from that to the awful problems of other, less fortunate places.
Eli has never left Serenity … until, one day, he bikes to the edge of the city limits and something so crazy and unexpected happens that it changes everything. Eli convinces his friends to help him investigate further, and it soon becomes clear that nothing is as it seems in Serenity. The clues mount to reveal a shocking discovery, linking their ideal community to some of the greatest criminal masterminds ever known.
ORDER NOW
Amazon        Barnes and Noble        Indigo        IndieBound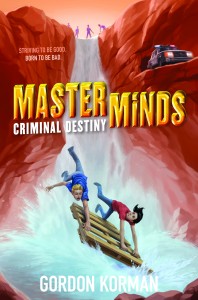 MASTERMINDS: CRIMINAL DESTINY
Follow Eli, Tori, Malik, and Amber as they try to discover the truth of their origins and carve a life for themselves in an outside world that is unfamiliar, baffling, and dangerous. But Project Osiris and its enforcers, the Purple People Eaters, are hot on their trail. They're free for now. But for how long …?
CLICK HERE TO WATCH THE BOOK TRAILER!!
ORDER NOW
Amazon        Barnes and Noble        Indigo        IndieBound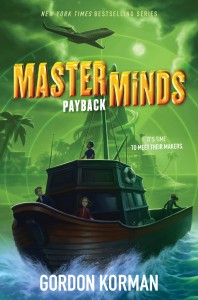 MASTERMINDS: PAYBACK
Surviving is hard enough, but the kids of Project Osiris know that they can't run and hide forever. Sooner or later, they're going to have to confront the people behind the twisted experiment that created them in the first place. It's time to meet their makers!
ORDER NOW
Amazon        Barnes and Noble        Indigo        IndieBound