SHORT FICTION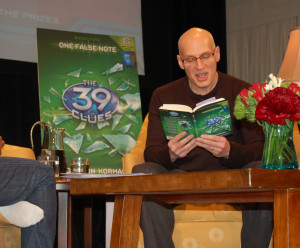 I've written mostly novels in my career, but over the years I have authored a handful of shorter works for various magazines and anthologies. Here are a few of my all-time favorites ….
A REASONABLE SUM
I originally wrote A REASONABLE SUM for a contest when I was 14. I lost the contest, but the piece has been published at least half a dozen times since then. It's the story of the first day of high school, penned when I was just weeks past my own first day of high school.
READ A REASONABLE SUM …
HOMICIDE MEETS MR. GOLD MEDAL
I haven't written much for the stage, but HOMICIDE MEETS MR. GOLD MEDAL is a "reader's theater" play, first published in Scholastic's Scope magazine.
READ HOMICIDE MEETS MR. GOLD MEDAL …
WIMP OF SPARTA
WIMP OF SPARTA was written for an anthology called THIS FAMILY IS DRIVING ME CRAZY, featuring stories about families. The "crazy" in the title wasn't meant to be taken literally, but I set out to create a clan that was truly out there. How do you think I did?
READ WIMP OF SPARTA
HAMISH MACTAVISH IS EATING A BUS
I originally wrote this story for an anthology called FROM ONE EXPERIENCE TO ANOTHER that focused inspired by real experiences. When I was growing up, there really was a news story about a guy who was eating a bus. And while my parents found it pretty funny, I was enthralled. I couldn't understand why this Herculean feat didn't dominate every headline and newscast.
HAMISH MACTAVISH IS EATING A BUS began when I looked back and tried to figure out why such an odd stunt had so activated me back then.
READ HAMISH MACTAVISH IS EATING A BUS
THE TROPHY
When Jon Scieszka approached me about contributing to a short story collection spun from his wildly successful Guys Read program, he originally had me in mind for the anthology focusing on humor. But I had another idea – sports.
I've written a lot about sports over the years, from my young adult novel POP, to the SLAPSHOTS series, all the way back to MACDONALD HALL days and THE ZUCCHINI WARRIORS. THE TROPHY is my latest – originally published in GUYS READ: THE SPORTS PAGES.
READ THE TROPHY