SLACKER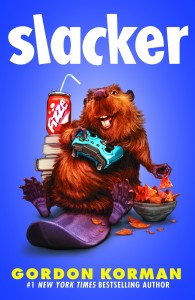 Cameron Boxer is very happy to spend his life avoiding homework, hanging out with friends, and gaming for countless hours in his basement. It's not too hard for him to get away with it … until he gets so caught up in one game that he almost lets his house burn down around him.
Oops.
It's time for some serious damage control – so Cam and his friends invent a fake school club that will make it seem like they're doing good deeds instead of slacking off. The problem? A lot of people think the club is real – and Cam is stuck being president.
Soon Cam is part of a mission to save a beaver named Elvis from certain extinction. Along the way, he makes some new friends and some powerful new enemies. The guy who never cared about anything is now at the center of everything … and it's going to take all his slacker skills to keep his head above water!
CLICK HERE for a VIDEO PREVIEW
 ORDER NOW
Amazon        Barnes and Noble       Indigo        IndieBound